This post first featured as a Guest Post on Nannuka's Blog, here. You can find out more about Nannuka, here. We can't claim to have come up with them all ourselves, but they are tricks of the trade that we've either learnt along the way, or that we've come across online / through friends etc.
We'll start with our baby-grow hack, which you can read here – Have you ever noticed that on the shoulders of baby-grows there are shaped shoulders? This is so that you can take the baby grow off down over the baby's head if an explosion in the nappy area has happened. Who knew…? This has saved us many extra baths, because let's face it – it gets very very messy sometimes.
2. Up next we have some quick toilet training tips, which will definitely make your life easier. You can add a few drops of blue food dye to your toilet to help detect if your child has done a wee – if they have the toilet water will turn green. This may also help children who are reluctant to use the toilet (over the potty, for example) during toilet training. Also, when teaching boys how to stand up and use the toilet it's a great idea to put a ping pong ball into the toilet for them to aim at. Otherwise it can be quite messy! Don't forget to train them to put both the loo seat down as well. 😉
3. Next is a simple hack for keeping your house mud free. You can put shower caps over buggy wheels when they are dirty to help keep your hallway or car clean. This maybe particularly helpful when visiting friends houses, especially if they have an aversion to mud. Because we've got to admit where there are children there will more than likely be mud!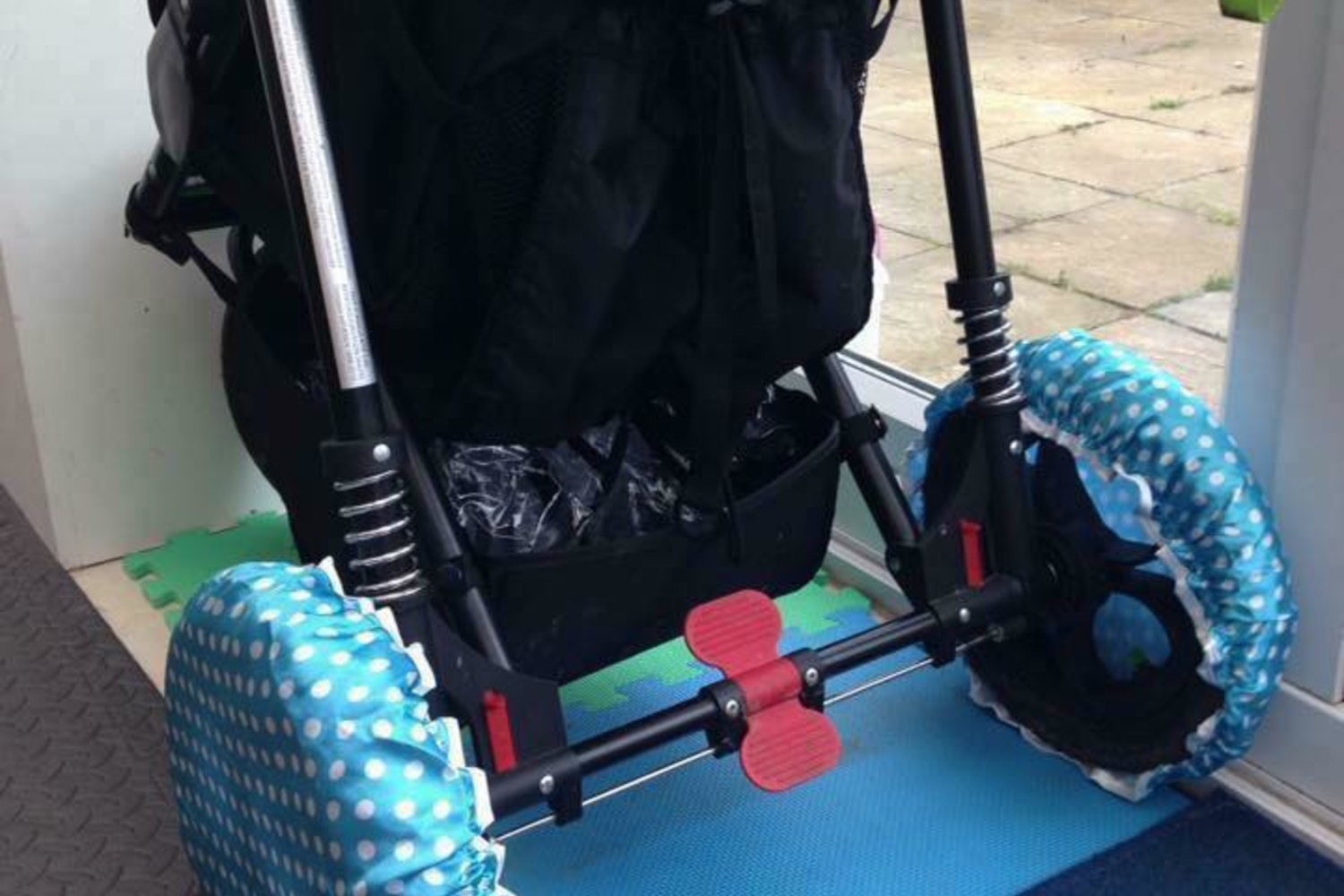 4. Our forth make life easier hack is to help children with independently putting their shoes on. If you cut a quite large sticker in half and put the co-ordinating side of the sticker into the shoe it should help children to figure out which shoe goes on which foot.
5. Use a large sponge cloth as your homemade ink pad for finger painting. Place onto a plate and squirt a colours of paint onto it (wide enough apart). When the paint sinks in then children can pop their fingers onto the sponge to get the paint.
6. Put together a grab bag, which you can leave on your coat rack/ near the buggy. In it put some pens/crayons, paper/little note books, some small story books, and little toys such as cars, lego, small world animals or little dolls, I also have a couple of packets of emergency raisins. Your grab bag could well be your best friend whilst waiting for appointments, in a restaurant or on the bus for example.
7. Another top tip for encouraging children's independence is putting Pegs at children's height. We've recently put these hooks up at home and it's worked wonders! I don't know why I hadn't thought of it before. Having the coat hooks at child friendly heights means they a) have ownership of their belongings b) can take responsibility for getting themselves ready and c) it's time saving and helps us adults out.
8. Tip Number 8 is putting Vicks vapour rub on the sole of a child's feet and then socks on before bed. This should help them to breathe more easily if they have a blocked nose. Note this is only suitable for children of 2 years +.
9. Our ninth tip is to keep a handy basket of nappy changing items downstairs. In the basket put nappies, wipes, cream, nappy bags, a foldable change mat/ disposable mat and a change of clothes for your baby/child. This saves running up stairs quite so often / in a poo emergency for example.
10. Lastly another keep things clean hack – if you are painting and don't have a wipeable tablecloth or newspaper to hand, you could use clingfilm to cover the surface. Likewise if eating out at a friends – you could cover the chair/ table with cling film to help when clearing up.
What are your favourite 'make life easier hacks?
You can read more of our pocketnannies top tips here.